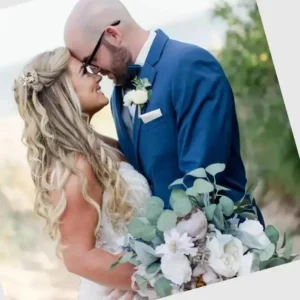 Coastal Roots Salon is the premier hair salon providing hair extensions in Chesapeake. We use SHE from SO.CAP.USA extensions that are made from only the highest quality human hair. We specialize in keratin fusion, tape-in and hand tied wefts. Whether you're looking for length, volume, highlights, or lowlights, these SHE extensions are the way to go. They last from three to six months and come in over 80 color, texture, and length combinations. At our Chesapeake hair salon, we have a number of stylists specially certified to install the finest human hair extensions available. Clients from Virginia Beach, Norfolk, and all of Hampton Roads come to us at Coastal Roots for gorgeous, long lasting hair extensions installed by experts.
The goal of hair extensions is to make your natural hair look longer, fuller, or more dimensional. Thus, our stylists are skilled in seamlessly adding the extensions into your natural hair. Every client has a consultation with a stylist where we go over health of the hair and make sure the client is a good candidate for extensions. We make honest recommendations as to whether or not your hair can handle extensions, and decide what color, length, and texture will suit you. We also talk about the best type of extensions for your particular style goals and hair type. We then order the extensions and book an appointment for your stylist to install the extensions and trim them to your desired length! Our goal is to give natural looking extensions that last and flourish!
Types of Hair Extensions We Offer
We specifically choose the types of hair extensions that we supply for their versatility, quality, and effect on the hair. We want every extension client to have healthy hair that looks amazing. Thus, we have chosen these types of extensions based off of our research and experience. Each one is chosen with a specific goal in mind, so it is important to have the consultation before choosing a type of extension! We offer three types of extensions that will suit almost any client!
Keratin Fusion
Keratin fusion is one of the healthiest ways to put in semi-permanent hair extensions. Glue, wax, and latex can damage the hair, but keratin actually strengthens it. The tips of these extensions are precoated in keratin that we heat up and attach to your hair in individual strands. The extensions come in almost any color and in several lengths that can be customized! Keratin fusion extensions are an awesome way to make your hair fuller and longer while keeping it healthy!
Tape-In Hair Extensions
Similar to the Keratin fusion, tape-in extensions utilize the same heat activated technology but with a tape instead of keratin bonds. The tape comes with the extensions, and we will help you decide how many you need to achieve your desired look. They come in many colors, and they can be trimmed to the length of your choosing!
Hand-Tied Wefts
Hand-tied wefts are more delicate than other types of hair extensions. Since each weft of hair is put together by hand, they require great expertise when installing. Hand-tied wefts come in many colors.
Uses and Benefits of Hair Extensions
Addition of Length
One of the main purposes of extensions is to lengthen the hair. This can be incredibly helpful as waiting for haircuts to grow out can be such an excruciating process. Adding the extra length will help you wait for your natural hair to grow out and give you some great long hair to work with in the meantime!
Lengthening the hair can also help if there is a special occasion that requires an amazing hair style. Sometimes working with shorter hair can be challenging when it comes to up-dos and other more formal styles. Adding hair extensions makes the styling process easier as there is just more hair to work with!
Addition of Volume
For some people, thick hair comes naturally, and they have no problem with volume! For others, it can be more challenging. That's totally okay! Add just a few hair extensions for subtle volume or add a lot to get a thick luxurious look. With hair extensions, you can have the volume you've always wanted!
Weddings and Special Events
Another amazing benefit of extensions is the ability to create incredible up-dos and wedding hair styles. Sometimes short hair can make special event hair-dos challenging to pull off. Even temporary extensions make a big difference! By adding extra length and volume, hairstylists are able to bring together gorgeous styles that will impress!
Even if you have long hair, sometimes the extra volume can help build the style as well! Incredible curls and whimsical up-dos just fall into place when you have an abundance of hair to work with. Coastal Roots Salon is the Chesapeake hair salon to go to if you want to incorporate hair extensions into your look!
Customization
Extensions make it easy to customize your look. Our hair extensions come in any color, and you can choose how much hair you want to add. For example, a more everyday look might entail very few extensions used for length or a little bit of fullness. A more dramatic look for a special occasion should include more wafts or extensions to enhance the style and the overall look.