Hair Salon in Chesapeake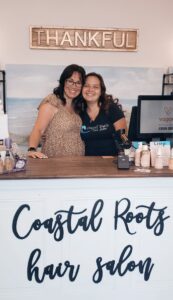 Coastal Roots Hair Salon is your premier Chesapeake hair salon! At Coastal Roots, we know that looking good is more than just your reflection in a mirror. It's about feeling good on the inside and letting that feeling radiate outwards. That's why it's our goal to help you own your unique style through an amazing experience with one of our stylists. All of our staff are specifically chosen for their talent, understanding, and acute intuition. Our goal is to make sure we get to know you, get to know your wants and expectations, and give you a style that will perfectly represent who you are. To achieve this, we provide you a full complimentary consultation before diving in. With this consultation, our stylists can really get a full understanding of your vision. Additionally, you are able to ask any questions and address any concerns that you might have. Our stylists are professional hair consultants, but they are also professional communicators, so you can rest assured that they are listening and working to achieve the look you want.
All of our stylists are expertly trained and fully experienced in cutting, coloring, and styling hair. Additionally, we are all committed to giving every client a great experience, so you leave happy and thrilled with your look. Our goal is to make you feel your absolute best by bringing out your personality and uniqueness through your style. Come visit us, drop us a line, or message us on Facebook or on Instagram - @CoastalRootsHair!
Chesapeake Salon at Edinburgh
Coastal Roots Hair Salon is located in the Hickory area, also known as the Great Bridge area, in Chesapeake, VA. Lynn Osborne, owner and stylist at Coastal Roots Salon in Chesapeake, and her family have been a part of the community in Great Bridge and Hickory for nearly 20 years. Chesapeake, Virginia is truly "home" and holds a special place in the heart of Coastal Roots Salon. You'll find Coastal Roots in Edinburgh Commons, conveniently located adjacent to the Edinburgh community and serving all of Great Bridge, Hickory, Greenbrier and every area of Chesapeake, VA. We also have many clients from Norfolk, Virginia Beach and other parts of Hampton Roads. We even call many Moyock, NC residents part of our Coastal Roots family!
Chesapeake Hair Color Salon
If you're looking for a talented Chesapeake hair stylist with experience providing expert Chesapeake hair color techniques, Coastal Roots Salon is here for you! Here are a few of the many services our talented stylists provide!
Multi Dimension Hair Coloring – Everyone loves the look of movement and volume, but since much of natural color dimension comes from the sun naturally altering different colors into the hair, it is a challenging look to achieve. We are experts at multi-dimensional hair color techniques, including balayage, foilyage, and highlighting techniques that give you a natural, dimensional, look by mimicking the sun's effect on the hair! By bringing in different variations of color, the hair looks fuller and moves more noticeably. We can make this effect as drastic or subtle as you like!
Balayage Hair Coloring – As one of the most natural looking hair dying techniques available right now, balayage is all the rage. The effortless "I woke up like this" aesthetic that has everyone in a craze is yours when you get balayage from a Coastal Roots stylist. Using subtle highlights and lowlights, our professional stylists will create a gradient effect that will make you look like a naturally gorgeous goddess who has perfect hair by accident. Balayage isn't about drama; it's about enhancing your natural hair to give it a little kick.
Highlights - One of our most commonly requested techniques, highlights come in a range of different options. If you're looking for a sun-kissed look, we can bring some light and life into your roots and ends that will make you look like you just got back from a beach vacation. If you want a little bit more drama, we can take you a few shades lighter and create some great dimension and movement. Whatever your preference is, we can help you achieve it!
Keratin Fusion Hair Extensions – Are you looking for a way to have longer and/or thicker, healthy locks today? Our keratin fusion hair extensions may be a perfect, natural looking solution for what you desire! These extensions are real human hair matched to your color, and the keratin bond is much healthier for your hair than normal glue-in extensions. The bond is made from keratin – and organic material - so it won't damage your natural hair. The results are natural, non-damaging, and absolutely gorgeous!
Keratin Smoothing Treatment – Keratin smoothing treatments are amazing for clients who want silky smooth straight hair that requires little to no maintenance. We use a special keratin product that we carefully apply to the root and length of the hair. This helps to smooth any fly-aways and build strong hair shafts that will retain their shape and stay straight for a long time! The detailed process is worth it for hair that looks flawless and supremely healthy for months!
Chesapeake, Virginia – The Spirit of Coastal Roots Hair Salon
Coastal Roots Hair Salon shares the unique spirit of Chesapeake! We are proud to call Chesapeake, VA our home. Chesapeake is one of the most eclectic places on the east coast. Locals and visitors alike know - from nature to urban shopping - you'll to find it all here. Being so close to the coast gives us a claim to some of the best waterways and outdoor adventure spots in Hampton Roads and southeastern Virginia. You can hike, fish, and explore to your heart's desire! Further inland, we have endless shopping, trendy dining spots, and all sorts of interesting places to enjoy! Locals know we have plenty of amazing restaurants and local shops to experience. From delicious Italian to fresh local seafood, Chesapeake knows how to do it! Our local Chesapeake businesses offer the cutest and most unique items you can't find anywhere else! Whether you are visiting, or you were born and bred here, you'll find that Chesapeake is welcoming, loving, and exciting. And that's the spirit of Coastal Roots Salon!